ISO Image Burner - Free ISO image CD/DVD Burning Software
ISO Image Burner is a useful tool that can help you to burn your ISO image files to CD/DVD Disc, support CD-R, DVD-R, DVD+R, CD-RW, DVD-RW, DL DVD+RW, HD DVD and Blu-ray Disc. It has ability to make bootable CD/DVD image file, process the boot information for CD/DVD image file, and have many other burning options, include test write, finalize disc and more.
This handy utility is easy to use very much, at the best, ISO Image Burner is 100% free, be free for both personal and commercial use, install or uninstall is very simple, burn your ISO image on the fly. Program support standard ISO9660 (default) and Joliet File System. This program can also be used to erase CD-RW media.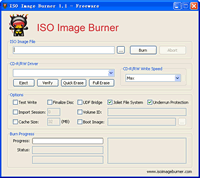 Download

| | |
| --- | --- |
| Latest Version: | 1.1 |
| File Size: | 609 KB |
| Language: | English |
| Platform: | Windows XP/2003/Vista/7/8 |
| License Type: | Freeware |
The default CD File System is ISO-9660, it is a standard CD-ROM file system that allows you to read the same CD-ROM whether you are on the Windows, Linux/UNIX, Mac or other major computer. The default write speed is MAX, this parameter sets the burn speed of the CD burner to maximum, the burn speed is limited by the maximum speed of the burner.
How to Burn ISO Image
Bellow this step by step about how to create a CD from ISO image file:
Download the install package of ISO Image Burner.
Run the install package, install this program.
Run this program.
Choice one ISO image file.
Insert a blank CD/DVD disk (recordable disc) in your CD-RW drive.
Click the "Burn" button to start the burning process.
Burning Options
Test Write - In order to test a system's performance without wasting valuable media, recorders allowed for a test write which would simulate the recording process.
Finalize Disc - after burning is complete performs media finalizing.
UDF Bridge - sometimes called UDF/ISO, is a DVD-ROM format used to make DVD-ROM media compatible with Windows 95 computers. Because UDF wasn't supported by Windows until Microsoft shipped Windows 98, DVD providers were forced to use an interim format called UDF Bridge.
Joliet File System - An extension to the ISO 9660 CD-ROM file format from Microsoft that supports Windows long file names starting with Windows 95. Joliet supports the original 8.3 naming convention for compatibility with DOS and Windows 3.1 and also supports the Unicode character set.
Underrun Protection - Most modern CD/DVD writers implement some form of buffer-underrun protection. A buffer-underrun occurs when the writer's buffer (high speed memory built into the writer itself for organizing data prior to writing it onto the disk) become empty of data before the writing process is complete. This leaves the new CD spinning in the drive while no data is available to be written to it, resulting in the writer essentially 'losing its place' on the disk and creating a useless CD.
Import Session - Multisession discs can be burned in multiple sessions until you have reached the maximum disc capacity. A session is a self-contained data area that is burned using a single process, and consists of a lead-in (with the table of contents), and one or more tracks and a lead-out. Discs without the multisession option, e.g. Audio CDs, are burned in a single session.
Volume ID - change data disc Volume ID (support unicode).
Cache Size - size of the cache buffer in megabytes.
Boot Image - burn a bootable CD/DVD if you include the boot image.
How to erase files from a CD-RW with ISO Image Burner
ISO Image Burner support to erase the files from a CD-RW (re-writable disc) if your computer is equipped with a CD recorder, Before you can reuse a CD-RW or DVD-RW disc, you must erase it. You can use ISO Image Burner to erase CD-RW and DVD-RW discs.
When you erase the disc, you can select "Quick Erase" (quickly) or "Full Erase" (slowly) button in program main interface. If you do, ISO Image Burner can prepare the disc so that you can write over the existing data but it doesn't actually erase the data. If you don't select "Quick Erase", ISO Image Burner overwrites the entire disc with zeros, which takes longer.

Copyright © 2009 ISOImageBurn.com, All rights reserved.
Support and Contact